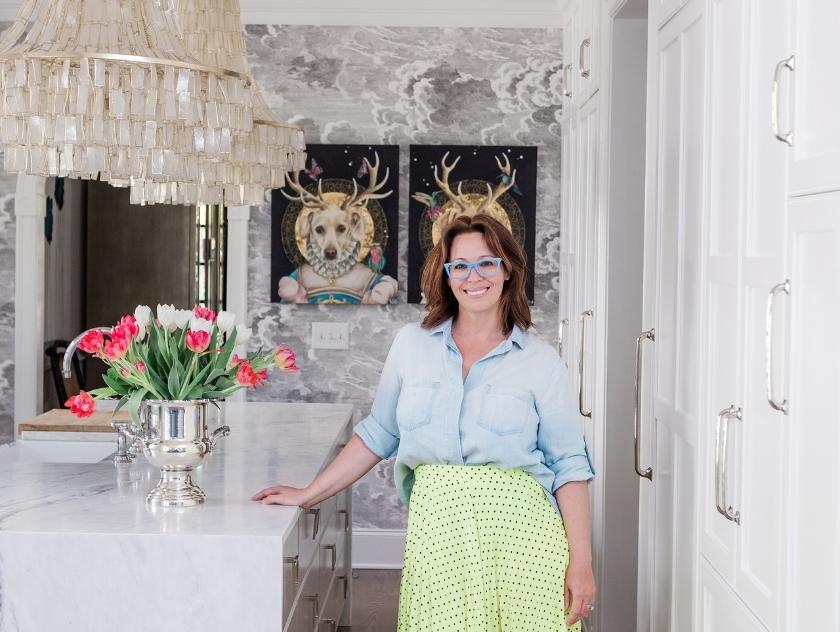 Kristie McGowan is a wife and mother living in the college town of Chapel Hill, North Carolina where she relishes renovating and decorating her traditional southern home. With a PhD in textiles, a professional background in fashion, and a passion for interiors, Kristie's style is best defined as traditional with a twist. She loves infusing high and low, color and pattern, traditional and modern with old and new to create a beautifully curated and inspiring backdrop for her family.
Design by @kristiemcgowanhome | Photography by @catwilbornephotography
While decorating her dream home, antique and vintage pieces play an important role, and Kristie has managed to score many thrifted gems over the years. In this week's edition of Collected Perspectives, we asked Kristie to share some of her tips to succeed in sourcing secondhand for starters. Kristie also picked some antique and vintage pieces from our marketplace that she can't miss.
AN: What got you interested in secondhand, vintage and antique items?
Kristie: Growing up, my parents were very frugal and always purchased or found secondhand items for our home. For them, it was out of necessity but it is something that is ingrained in me. My childhood bedroom consisted of a gorgeous hand carved oak bed, dresser and vanity that my father pieced together from items he found on the side of the road and others that he pulled from an old New England farmhouse. There is something special about finding previously loved items because you know what you have will be truly unique and not mainstream. I love that secondhand items have a history and story that my family gets to continue adding to.
AN:What are the one or two things you always find yourself bidding on when shopping secondhand?
Kristie: I take a totally different approach to secondhand shopping than most people I know. I very rarely look for something specific. Instead, I love the thrill of the hunt and the experience of shopping and the discovery process. I relish in finding things that I never knew I needed but then get and can't imagine my house without! It is a really authentic way for a home to evolve. I do try to keep a list of key room and space measurements on my phone so that if I am out shopping or perusing auction sites, I can quickly figure out if it will work size-wise in my home.
If I had to name items specifically, some favorites I love to keep an eye out for are garden stools, mirrors, anything chinoiserie, pairs of lamps and plates!
Garden stools are small and versatile and if you look at photos of my home then you will see quite a few different ones. They can be easily moved around and are often indoor and outdoor friendly. I go for ones that have a lot of personality and I use them as end tables, sculptures and just as conversation pieces. I also absolutely adore mirrors and believe that every room should have a mirror. It is a great way to bounce light around a room and make it feel bigger. My staircase is lined with a gallery of mirrors that makes such a statement. Almost all of them were purchased secondhand. I always keep an eye out for larger furniture items. This allows me to get substantial, high quality furniture with a lot of personality at a reasonable price. Sometimes I will have the pieces refinished but often I embrace the character of an older piece. In the past two years, I have also learned how to clean second hand rugs and that has opened up some beautiful options for my home for a fraction of the price of a new rug!
AN: What's your absolute favorite item ever purchased at an estate sale?
Kristie: That is a tough question! I have a gorgeous black marble and brass chandelier in my entryway that I found in someone's attic during an estate sale. It was brand new but since they were moving they needed to sell it. I had no idea where I was going to put it when I bought it but I didn't hesitate one bit! It is an absolute defining feature of my entry. To install it, we needed to have the ceiling reinforced but it was totally worth it! It was a good reminder that you can sometimes find items at estate sales and auctions that are brand new!
Design by @kristiemcgowanhome | Photography by @catwilbornephotography
At that same sale, I also bought a very large, heavy, green lacquered pair of campaign dressers that came with a custom, thick desktop. It is now in my son's room, but I originally bought it for our craft room. As he has gotten older and needed more storage in his room, we realized it would fit perfectly in his room. I love that it fits just as well in his room as it did in the craft room. It is a testament that if you buy what you love then you will always find a place in your home.
Design by @kristiemcgowanhome | Photography by @catwilbornephotography
AN: Any tips or advice for online auction or estate sale newbies?
Kristie:
1. Keep an open mind and be decisive. If you think you will regret not purchasing something then you should get it or else you may miss out on it.
2. Think outside the box and see beyond slight imperfections. For example, a bookcase or shelves could be great for books but could also be a wonderful place for linens or shoes. A unique soap dish could be a key holder. A dresser may just need a fresh coat of paint. A rug may just need a good cleaning.
3. For smaller items, like plates and lamps, try to buy in pairs or multiples. It allows for more options for styling and placement.
4. When shopping in person, don't forget to look up and down. It can be overwhelming but you may miss something that is really special.
5. If you need something specific, make a small list of what you are looking for because it is easy to get distracted and overwhelmed.
6. Keep measurements on hand so you can quickly determine if something will fit in your home.
7. Follow people on Instagram whose style you love so you can start to train your eye to find unique items.
8. Buy what you love.