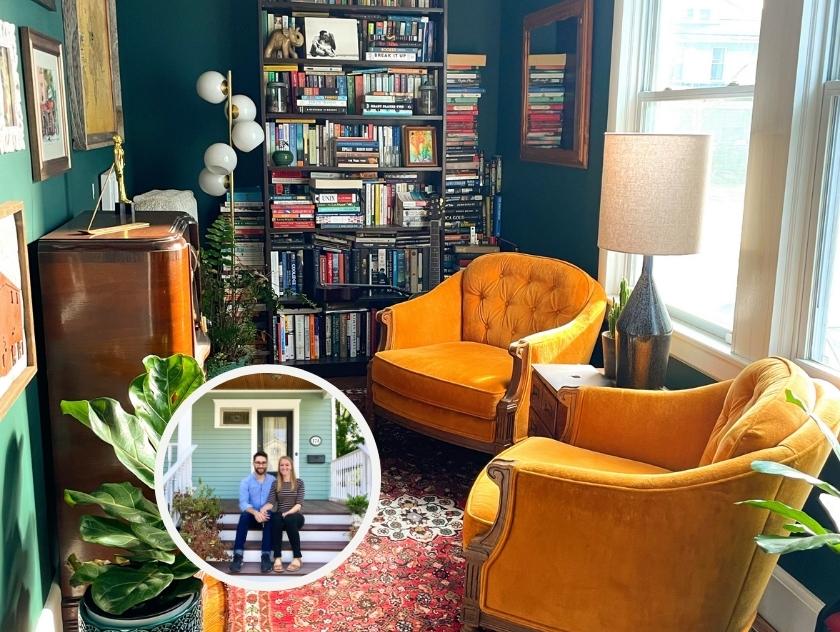 Maggie and Joe own a 1907 Dutch Colonial Revival in Northern New Jersey. They've spent the last five years rehabbing their home, uncovering history, and decorating almost exclusively with second hand, vintage, and antique items.
In this week's edition of Collected Perspectives, we ask Maggie & Joe to pick some of their favorite items throughout our marketplace and share some of their tips for decorating with dark color and velvet furniture. Check it out!
AN: What got you interested in secondhand, vintage and antique items?
Maggie: I grew up as the 6th generation of my family to live in a 1903 stone bungalow in Northern New Jersey. My mom was always finding antiques tucked away in hidden attic and crawl spaces, like the time she found an antique craftsman rocking chair in the ceiling of our kitchen. The "hunt for treasure" and knowing that some of these items have lived a hundred lives before they came into our possession is definitely what sparked and continues to spark our interest. We love to learn the history of the antique and vintage items that we have. Plus, often second hand is more affordable and more one-of-a-kind or unique, and almost always reduces material waste and keeps things out of the landfill, which is always a win!
AN: What are the one or two things that you always find yourself bidding on/looking for when shopping secondhand?
Maggie: Furniture and rugs are my two secondhand addictions. We no longer have room in our home for any more rugs or furniture, but I still find myself browsing. I love wood furniture, especially with beautiful wood grain like quarter sawn or burled, and have an affinity for colorful velvet furniture. For rugs, nothing makes me happier than a wool hand knotted rug, it's incredible how much time and skill goes into making them. We also love antique art, especially paintings, and I have a personal fondness for etchings. And Joe loves antique radios, fans, anything electrical!
And here are some vintage and antique pieces we can't pass up when browsing AuctionNinja marketplace:
AN: What's your favorite AuctionNinja purchase?
Maggie: A few months ago, we snagged an 1830s dry sink for $35 on Auction Ninja. I was so excited to win since I was outbid on 4 other items in the same auction. We cleaned up the dry sink and had our record player on top and our records stored in the cabinet section. A different use than the dry sink's original purpose, but we absolutely love it!
AN: What's your absolute favorite item ever purchased at an estate sale or online auction?
Maggie: This is so hard because 90% of our house is second hand! A few years back, we bought a pair of vintage organey-mustard armchairs that we have in our study. They're the most comfortable chairs I've ever encountered and the color is so unique and fun. I posted a photo of our study once and someone asked if they could buy them from us! My answer was, "never."
AN: Darker colors often have negative associations. However, your designs allow them to shine while also maintaining a positive and comforting feel. What are your recommendations for people looking to incorporate darker colors in their home while keeping an uplifting environment?
Maggie: I can't imagine having a room in our house that's only light colors or neutrals. I've used dark and bold colors in our home to add balance, drama, contrast and personality. My best recommendation would be to include a few different dark colors in your space, instead of just trying to add one bold accent color. It will make the space feel more cohesive. You also need to forget the trends and go with what feels like "you." I think our homes are extensions of our personalities and I'm just not a neutral person!
AN: A touch of velvet adds warmth and texture to a room and your home is a great example of that. Do you have any advice or tips about shopping and decorating with velvet furniture - especially secondhand?
Maggie: Do it, you won't regret it! I'm a strong believer that velvet furniture never goes out of style. When buying velvet furniture second hand, try to examine the fabric as best as you can. Velvet can be really misleading in photos. For example, the "crushed" down sections can be easily fixed with some steam, but there's things like "bald spots" on velvet that can't really be repaired easily. Otherwise, it's surprisingly durable.