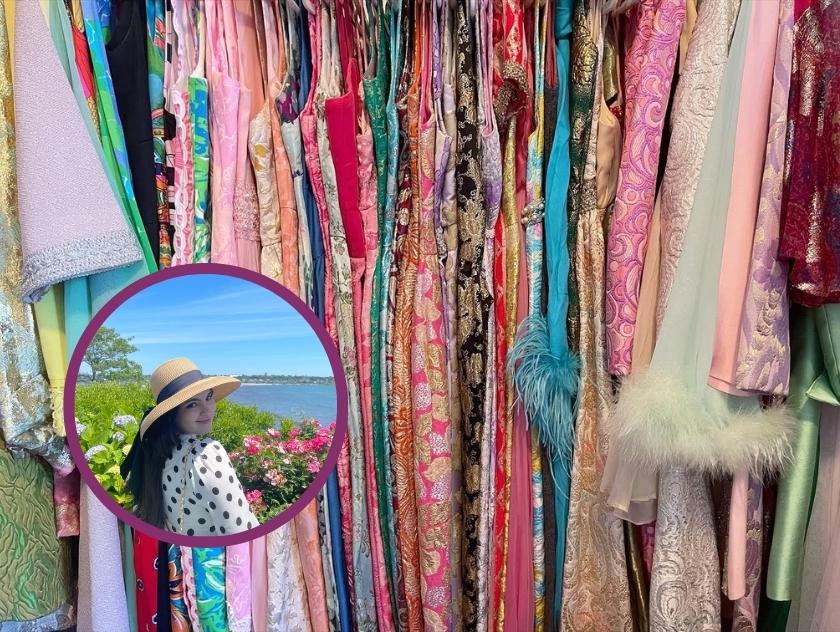 It's no exaggeration to say that collecting vintage is in Emma Enig's DNA. Her mother is the well-known blogger and designer Jessica Enig of Such Pretty Things, and started schlepping her around antique malls, flea markets, and estate sales with her parents when she was only five years old.
Emma grew up in a home where everything was vintage and pretty. Her mother was the one encouraging her earliest collections, which consisted of vintage beaded purses, lace hankies, rhinestones, brooches, and perfume bottles.
By the time she was 10, Emma knew which vintage millinery hats were worth buying, which French settees were overpriced, and how to identify 18th-century copper pots.
Her interests and collections have changed over the years, but Emma still loves vintage as much as she did when she was a kid. She currently collects many things: vintage brocade gowns, floral paintings, Asian paper lanterns, toileware, wallpaper, glassware, china, novelty items, ephemera… the list goes on.
She's inclined to say she has more than most 24-year-olds, but Emma is proud of her curated collections. She's also ventured into the world of selling vintage as a way to fund her "hobby" (read: vintage shopping addiction).
When she's not roaming an antique store or online shopping, Emma works as a civil rights activist fighting against anti-Semitism and discrimination. She is currently pursuing her J.D. She resides in Washington, DC with her pet rabbit named Radish.
Your apartment is full of vintage pieces. What's your favorite place to source vintage?
I source vintage from all over the place! I attend all my local flea markets, will wait in line at "digger" estate sales, and will drive hours for a good antique mall. I try to hunt in person whenever I can, but the reality is that online shopping is just so much more convenient.
Keyword searching makes it so easy to find what I'm looking for. Pretty much all my vintage artwork has been sourced online, along with my vintage glassware and pillow collections. I've managed to cram A LOT of collections into my studio apartment. I'm very pro-eclectic maximalism, in case you couldn't tell.
What are the one or two things that you always find yourself bidding on/looking for when shopping secondhand?
I'm always looking for vintage party decorations, especially foil garlands, paper lanterns, and honeycomb fans. It's becoming increasingly difficult to find these fun gems, but I love the hunt!
It's rare to find them in person, so I check sites like eBay and AuctionNinja daily. You never know when something will turn up!
I'm also always searching for vintage serving pieces. I love to host, so it's important to have a bevy of different plates, trays, and cake stands available at all times! I'm very into Adams Calyx Ware pieces at the moment. Fenton, Bristol, and milk glass are fun to collect as well.
What's your absolute favorite item ever purchased at an estate sale or online auction?
I once scored a pair of jumbo pink Bristol glass vases at an estate sale (go ahead, be jealous). It was the last day of the sale, so they were 50% off. I proudly display them in my home.
We love all your reels showing the different places you thrift. If you had to pick one location, which one would be your favorite and why?
It's hard to pick one… I seem to do the best in Maine and Pennsylvania. There are tons of antique malls and the stuff is CHEAP!
I'm always on the hunt for affordable "smalls" for myself and for resale. Vintage tins for $2, china plates for $1.50… you just can't beat the quantity and quality of vintage on the East Coast!
Thanksgiving is coming up - how will you be decorating your table with vintage items?
I tend to leave the Thanksgiving decorations to my mother (I'll take it over eventually!), but we always break out the antique transferware, silver platters, and ceramic floral vases.
We also decorate the table with moody vintage millinery flowers and velvet ribbon.
Your Shabbat dinner table looked gorgeous, and you were able to incorporate many different types of glassware in your design. How are you able to combine such unique pieces so they fit together seamlessly?
I take Stacy London's advice on What Not to Wear very seriously - "it doesn't have to match, it just has to go." I gravitate towards certain colors, which makes putting together a table pretty easy.
Whether it's vintage pressed glass goblets, hobnail milk glass tumblers, or Moser glass pitchers, I LOVE colored glassware and pick up sets whenever I can. It's fun to mix and match and I think more people should do it!
Do you encourage other young people to purchase vintage?
Absolutely! I wish more young people were interested in collecting. I love Target and Wayfair as much as the next person, but it's really special to own something unique and well-made.
And buying second-hand is usually cheaper! It's a win-win for buyers, sellers, the environment, and individualism. There's something for everybody, regardless of taste and price point.
I've also started gifting vintage pieces for special occasions, as long as the item is practical and aligns with the person's taste. Just because I like vintage embroidered table runners doesn't mean my friend wants that as a hostess gift. An antique French serving tray on the other hand… now that's something they could use!
Any tips or advice for online auction or estate sale newbies?
There's nothing worse than the feeling of regret over not buying something. I still think about the bright blue glass punch bowl set, gilded fireplace screen (I don't even have a fireplace), and matching sets of China plates I didn't buy over the years.
If the price is right, just buy it! If you come to realize it was a mistake and you don't need it, you can always sell it online. If it's pricey, do a cost-benefit analysis or call your spouse, of course…
Emma's AuctionNinja Picks
Interested in becoming a guest curator? Apply here. And don't forget to share your latest scores with us on Instagram by tagging your photos with @auctionninja and #ANFinds -- we'd love to feature you!