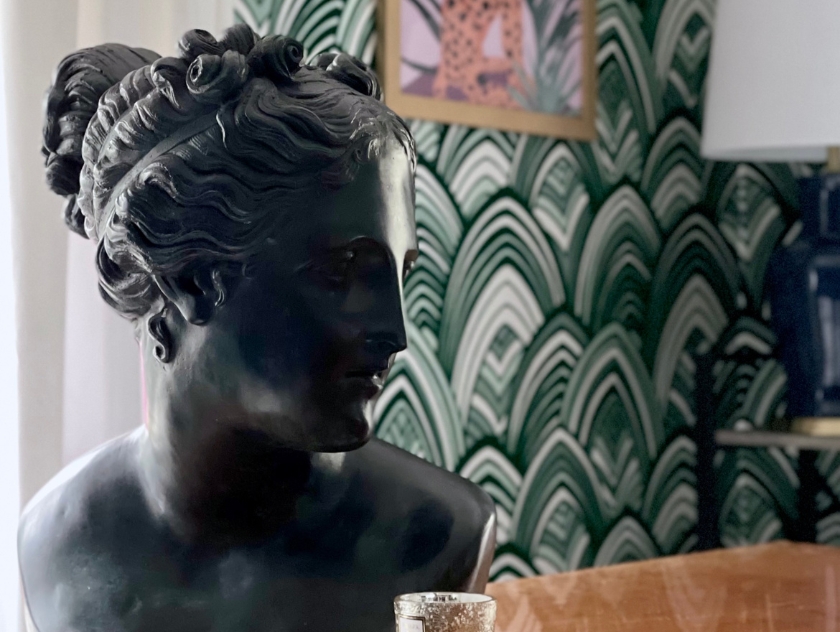 We love to hear about the amazing gems that designers and design enthusiasts have scored while shopping online auctions. Learning more about the pieces that other people have uncovered always leaves us feeling inspired—and full of ideas of what to look for the next time we're browsing an enticing option. Below, 7 design experts share their favorite online auction finds of all time.
A Bronze Bust
"One of my favorite pieces of all time that I ended up keeping for myself is this bronze bust I got from an AuctionNinja estate sale listing. It was a local estate sale so after perusing the website, I knew I had to get myself over there to see everything. She sits on the corner of my desk watching over me. I was able to score the jade brush at the same time!" — Christine Kohut of Christine Kohut Interiors
Photo courtesy of Christine Kohut
A Mid-Century Modern Coffee Table
"My favorite find was this coffee table. It was structurally in good shape, but the top needed to be completely refinished. I love a good refinishing project, so I was happy to take that on—and once I got it done, the table looked brand new, and for only a fraction of what I would have paid for this style elsewhere. It's perfect in my sunroom—and I know it's perfect because my dad said it reminded him of going to his grandmother's house when he was little. That's the vibe I'm going for!" — Brittany Goldwyn Smith of By Brittany Goldwyn
Photo courtesy of Brittany Goldwyn
Vibrant Vintage Rugs
"When working on one of our clients' restyles, she mentioned she wanted vintage rugs scattered throughout her home, and we found the most gorgeous one of a kind custom turkish runners for her stairway. The gorgeous warm tones paired effortlessly with the surrounding rooms, but also the darker tones to mask any natural wear and tear for a stair runner fit the bill perfectly. The best part is the fact that this runner would usually be in the $1,500 and up range and we got it for only $850! I knew my client's budget and that's where we capped our bid—lucky for us, we won!" — Taylor Fusco of Tay Fusco Design
Photo courtesy of Taylor Fusco
Architectural Elements
"These were diamonds in the rough. Marble keystones are difficult to find, especially carved floral motifs that are not overly done. They were really dirty but cleaned up beautifully. I was able to successfully match them to a couple of my marble mantels that were missing that final element to complete the design, and from a similar time period." — Molly Acorn of Mantel House DC
Photo courtesy of Molly Acorn
A Leopard Stool
"This darling little stool is one of my favorite finds. The base is cast iron, so it's sturdy and so versatile. It moves around our home and has served as an end table, an extra seat, a plant stand, and a foot stool. The leopard print is original and it simply works in every room." — Cate Holcombe of Cate Holcombe Interiors
Photo courtesy of Cate Holcombe
An Antique Set of Books
"I found this set of antique books by author Louise Mühlbach. I loved them for two reasons: the beautiful color with patina and the subjects. There are several books about Marie Antoinette and Napoleon. As my apartment is French-inspired and I hosted a Marie Anoinette housewarming party, I felt that these books fit perfectly with my style. I broke up the 15 volumes and used a few upstairs in my living room and the rest in my bedroom. It really helped to fill in the decor gaps on my shelf. Mixing in vintage items really helps to evoke that old world charm that I love." — Michelle Trinh of Chez Vu Decor
Photo courtesy of Michelle Trinh
A Cedar Chest
"I have a furniture painting business and cedar chests are my favorite pieces to paint. I won the bidding on several cedar chests a few months ago. My favorite chest from the auction is the sunflower cedar chest I purchased for $82 including auction fees. I painted it a light color then whitewashed the paint. The cedar chest now has a fresh modern look and I sold it in record time." — Kathy Owen of Petticoat Junktion
Photo courtesy of Kathy Owen
Ready to locate an estate sale company or explore online estate auctions? Visit AuctionNinja.com. If you're new to online estate auctions, try it risk-free by sigining up here.