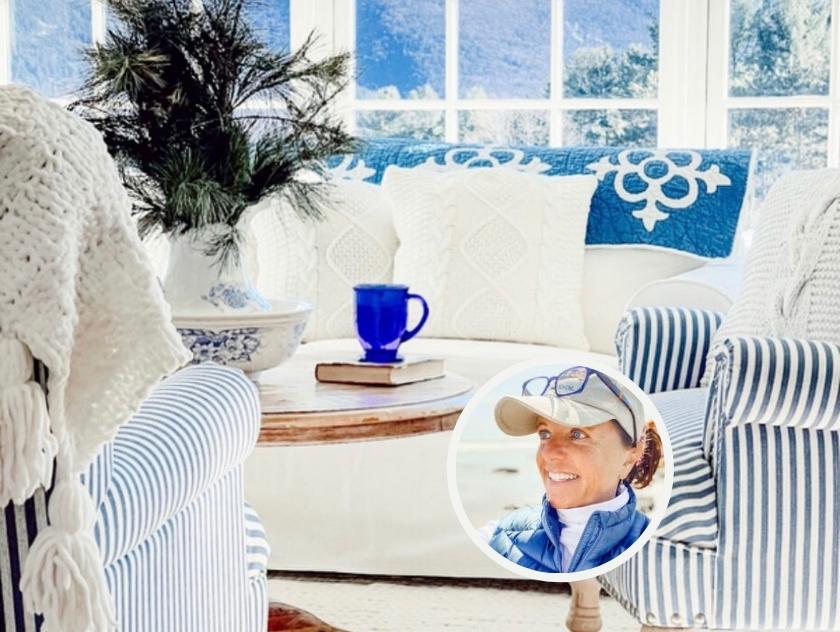 After retiring from a 26-year career in education sales in Connecticut, Ann Kittredge moved to her dream spot in the mountains of Vermont, and launched her blog, Dabbling & Decorating, a thrifty and vintage home decorating blog.
Ann has been passionate about decorating her home since she was a little girl. In 2020, she inherited her parent's 30 year old coastal Maine Raeside-Dame home and has been renovating and styling it, along with her little red ranch in Vermont. Both homes are filled with family heirlooms, vintage and antique pieces. We can't wait to share some of Ann's tips on shopping and incorporating secondhand pieces and vintage items to decorate both of her homes, and her recommendations curated via our marketplace.
AN: As an owner of two homes in Maine & Vermont, can you share the similarities and differences in the way you approached their design?
Ann: Our homes in Maine and Vermont are very different. We selected our home in Vermont about 10 years ago when we made the move from Connecticut. We chose the house mostly for its beautiful views and location. It's a one-floor ranch with a porch overlooking the mountains. When you sit on the porch, you'll never want to leave. The scenery is amazing. The home is an open floor plan with a collected vintage farmhouse style. Much more modern than our home in Maine.
Our home in Maine which we inherited from my parents in 2020 was built 30 years ago and is a Raeside-Dame home, a replica of an Early American Home. We have since refinished all the wood floors, repainted the walls, trim and replaced the kitchen appliances, and restored the cedar shake siding. It is decorated throughout with family heirlooms along with my parents collected antiques like pewter, Limoges china, and antique vs. vintage furnishings.
I embrace both vintage and antiques in both of our homes, however the home in coastal Maine came with my parents' foundation of antiques that they collected over the years. Our home in Vermont is filled with vintage collections that I enjoy, from flea markets and second-hand shops. Not necessarily antiques.
AN: How are you able to achieve the perfect balance of incorporating natural elements into your home decor?
Ann: I try to incorporate the elements of Vermont and Maine into each home. For example one of my favorite rooms in Maine is a guest bedroom decorated with an Early American coastal theme. Seersucker bedding, my mothers handmade quilt collection and braided rugs, lobster pillows, and a wrought iron bed. I just adore it.
And since the porch at our home in Vermont is such a focal point to the house and lifestyle, this past year I created a "Vintage Ski Lodge" blog series where I decorated it all with vintage snowshoes, ski boots, skis and poles, vintage toboggan, chinoiserie pots, wintergreens, ice candle holders, and inside too with a cozy ski lodge fireplace setting, and ski lodge bedding ideas.
AN: What got you interested in secondhand, vintage and antique items?
Ann: My parents collected and decorated with antiques ever since I can remember. My fondest memories of antiquing were when my mother would spot something she loved and my father would go back and buy it for her, surprising her at Christmas. I even remember my first auction with my mother as a child, when I won a ceramic white cat. I have always enjoyed the creativity and nostalgia of second hand items.
AN: What are the one or two things that you always find yourself bidding on/looking for when shopping secondhand?
Ann: Dishes. There's just something about finding a vintage set of dishes and then setting a table with them. Learning their history, where they were made, the different patterns, and styles. And I can't resist an entire vintage set of dishes selling under $100… And my favorite are the mixed patterns.
AN: What's your absolute favorite item ever purchased at an estate sale or online auction?
Ann: I have to say 3 sets of heavy, red, white, and blue coastal style drapes. They are not for everyone but when I saw them I couldn't resist. And I was able to find out that they had been custom made for a boat in the 1970's. To find 3 sets of drapes like these in good condition that fit our windows perfectly and matched was amazing. They hang in our coastal Maine home's living room today. They are truly one-of-a-kind.
AN: Any tips or advice for online auction or estate sale newbies?
Ann: If you like it, buy it! With all the online sale vehicles available to us today, you can always resell something if it doesn't work for you.
Ann's AuctionNinja Picks:
Ready to locate an estate sale company or explore online estate auctions? Visit AuctionNinja.com. If you're new to online estate auctions, try it risk-free by sigining up here.